SEC Newgate acquires 70% of Latin American agency 'another'
the acquisition completes the Group's presence across the Americas
'another' has forecast 2022 revenues of over US$20 million
another is a Mexican-headquartered consultancy, founded in 2004, that provides strategic communications across the Latin American market with offices in North, Central and South America. It is also further enhanced by a full suite of marketing services including one of the strongest influencer marketing teams in the region.
another was founded by Jaspar Eyears and Rodrigo Peñafiel and has forecast 2022 revenues of over US$20 million, generating EBITDA of approximately US$2.3 million.
The acquisition of another – whose offer and approach perfectly matches SEC Newgate's vision of the value of strategic communications and reputation management in a fast-changing and unpredictable environment – completes the Group's footprint in the Americas. After SEC Newgate Colombia, the market leader in this country, another will add the markets of Mexico, Argentina, Brazil, Chile, Costa Rica, Panama, Peru, Uruguay, and Miami (US) to the Group's footprint across five continents and increase its team to 1,145 people.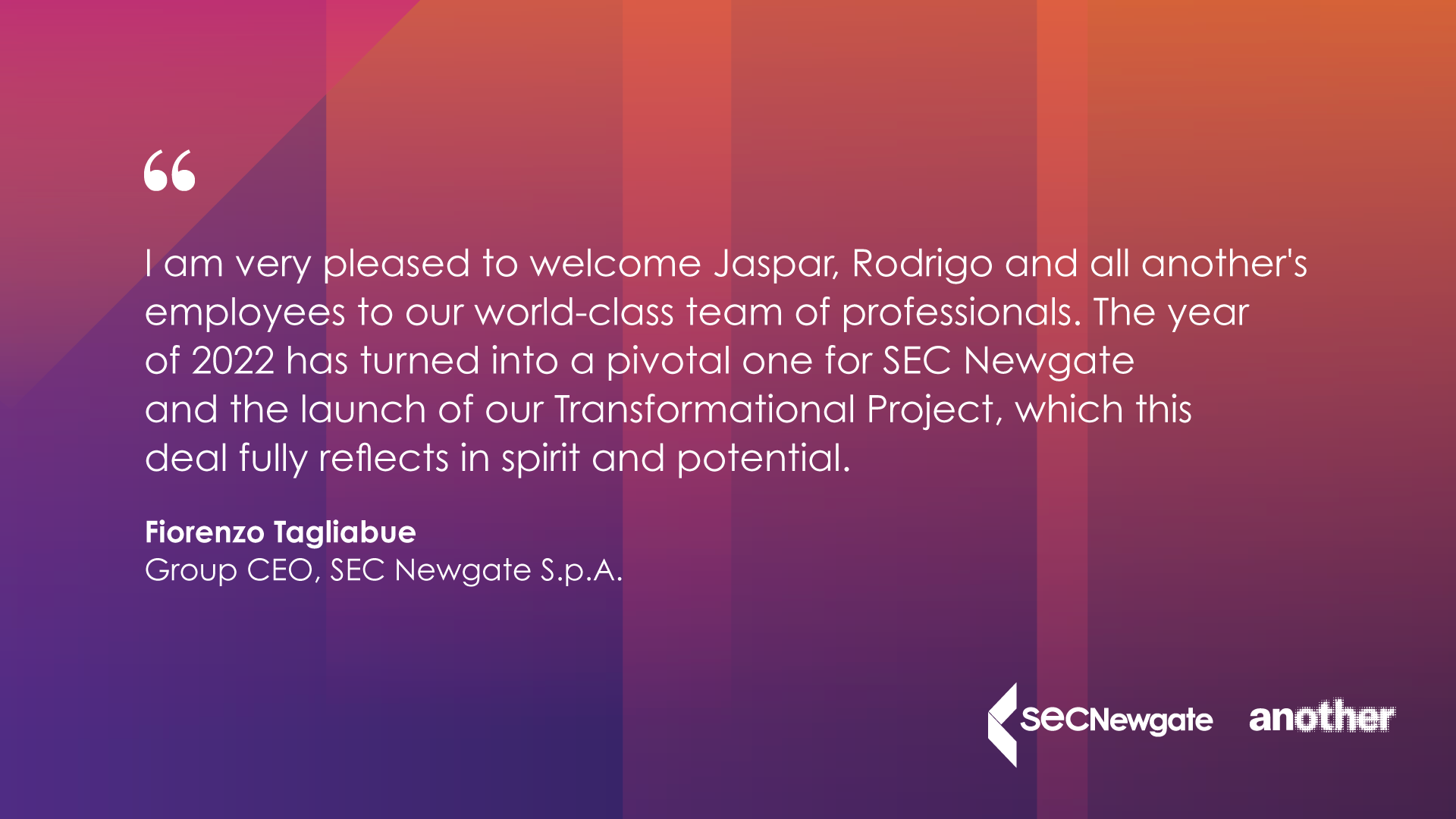 Commenting on the transaction, Fiorenzo Tagliabue, Group CEO, stated:
"I am very pleased to welcome Jaspar, Rodrigo and all another's employees to our world-class team of professionals. Our businesses have a strong cultural and business fits and I am confident they will integrate perfectly as a group led by entrepreneurs and advisors – the two elements that are hallmarks of our leadership team.
"The year of 2022 has turned into a pivotal one for SEC Newgate and the launch of our Transformational Project, which this deal fully reflects in spirit and potential."
Jaspar Eyears, Co-Founder and CEO of another, commented:
"This deal provides a unique opportunity for our teams to benefit from a depth of international experience as well as a suite of complementary marketing and communications services which will create enormous value for both our clients and our staff around the world."
Rodrigo Penariel added:
"I'm very proud that after 18 years of building this great agency we now have the opportunity to join forces with SEC Newgate, an international Group that I admire and that will help us to grow and consolidate our operation in the region. I believe this union of agencies will be a great success."
The transaction was completed on 14th November 2022 in Mexico City.