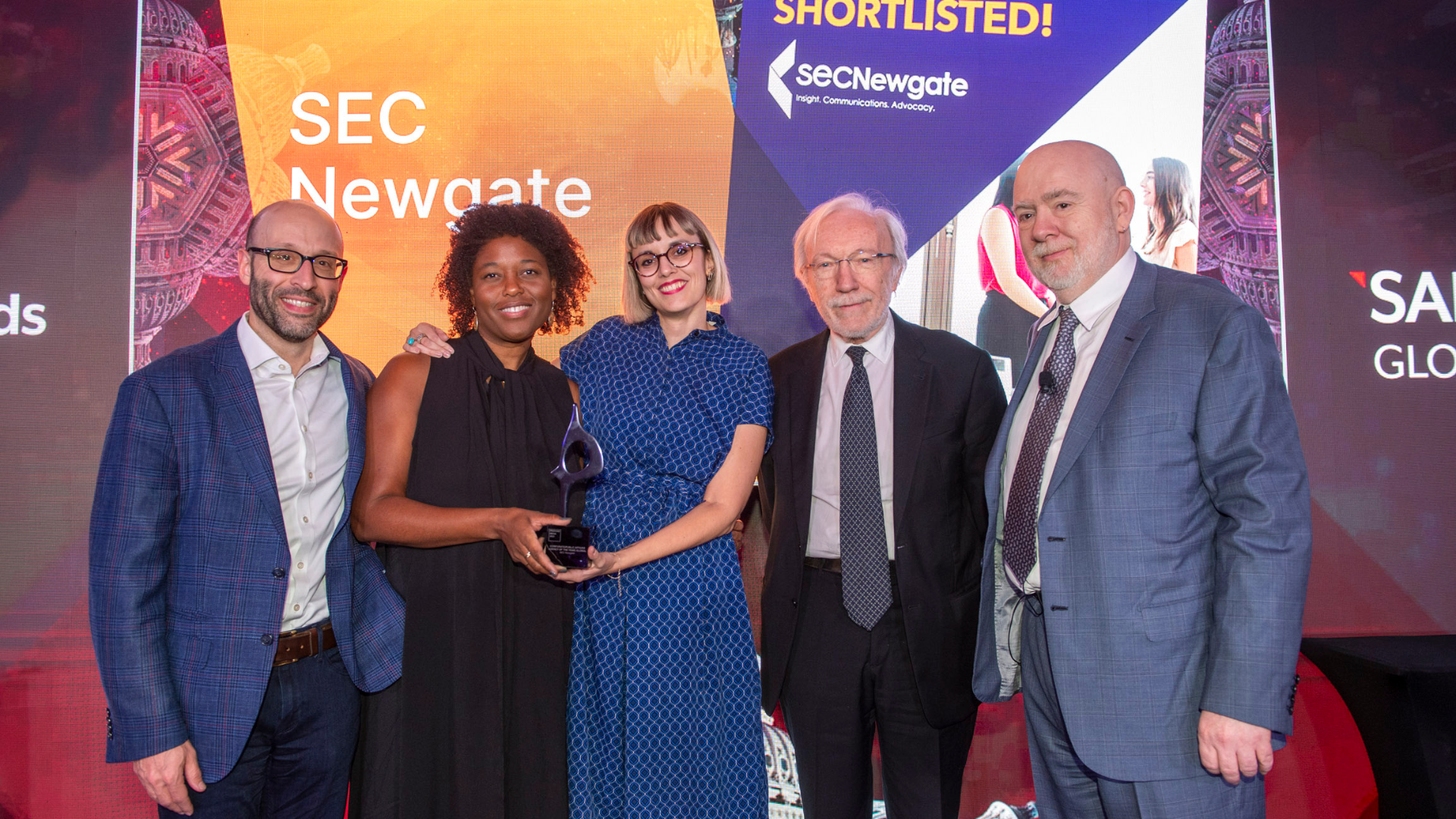 From left: Jim Papa (Head of Washington D.C. office and Partner, GSG); Jade Floyd (SVP Comms and Public Affairs, GSG); Irene Ferrario (Senior Group Marketing Manager, SEC Newgate); Fiorenzo Tagliabue (Group CEO, SEC Newgate); Paul Holmes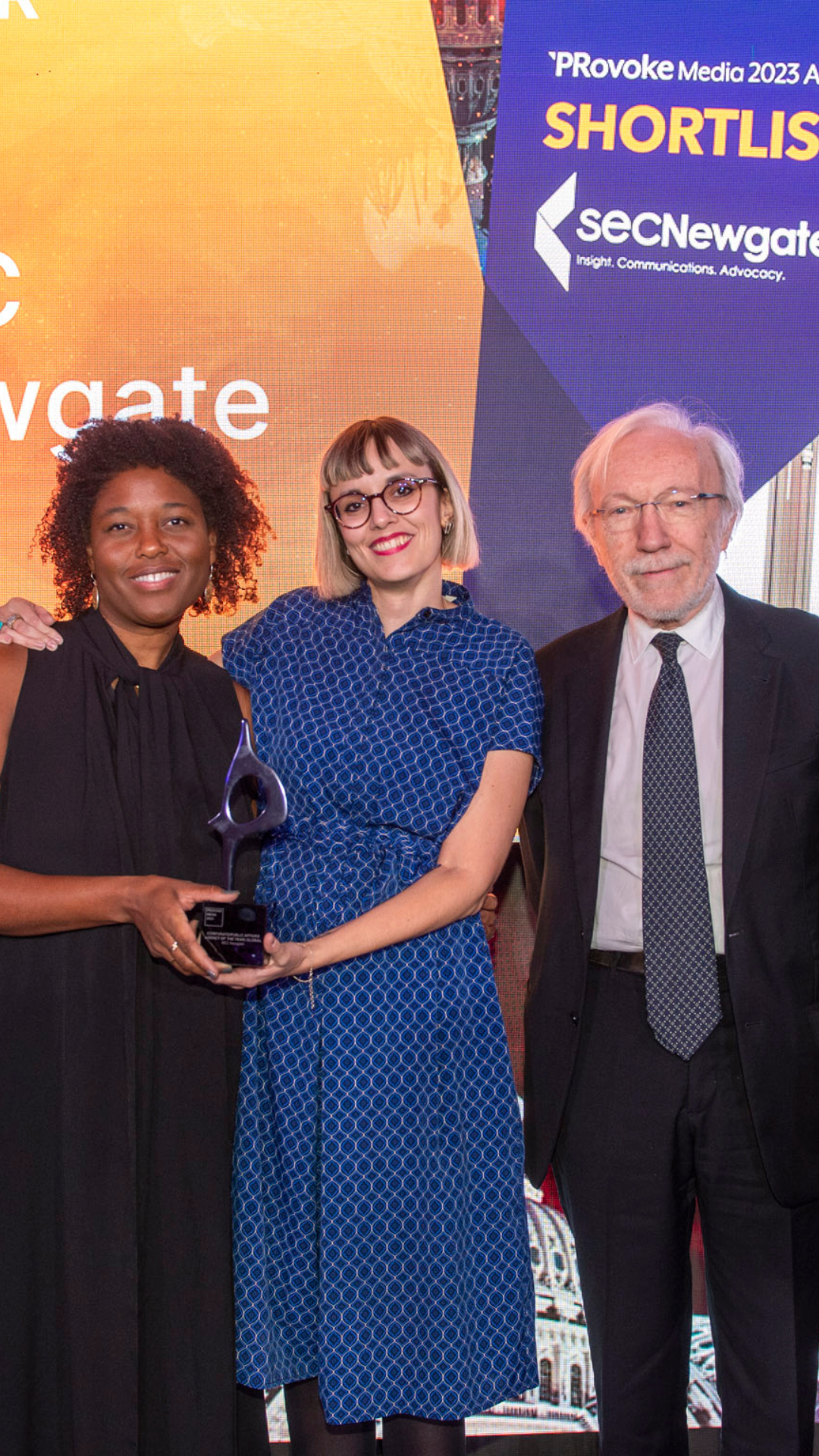 From left: Jim Papa (Head of Washington D.C. office and Partner, GSG); Jade Floyd (SVP Comms and Public Affairs, GSG); Irene Ferrario (Senior Group Marketing Manager, SEC Newgate); Fiorenzo Tagliabue (Group CEO, SEC Newgate); Paul Holmes
SEC Newgate was awarded the Global Agency of the Year (Public Affairs/Corporate) at the PRovoke Media Global SABRE Awards in Washington D.C.
Washington D.C. – 8 November 2023. It was an unforgettable night for SEC Newgate at the PRovoke Media Global SABRE Awards 2023, as they won Global Public Affairs/Corporate Agency of the Year.
Our CEO Fiorenzo Tagliabue, who was present with a delegation of colleagues (Jim Papa, Jade Floyd, and Irene Ferrario), dedicated the award to the whole of SEC Newgate: "This is a really great achievement for us and a wonderful acknowledgement of the outstanding work of our team of 1,300 colleagues across SEC Newgate Group's offices: from New York to Milan, from London to Bogotà, from Paris to Sydney. While we have been shortlisted across a number of categories over the years, this is the first time that SEC Newgate has taken this top award as Global Public Affairs / Corporate Communications Agency of the year by Provoke Media. A recognition of the hard work and passion that we put into our work every single day, as well as our incredibly successful growth journey that started 30 years ago. Congratulations to everyone who made this happen!"
The event took place in Washington D.C. during PRovoke Media's 12th Global Public Relations Summit, a 3-day conference designed for top-tier speakers and senior practitioners to address the critical issues facing the PR and communications industry.
The PRovoke Media Global Summit was also an occasion for SEC Newgate to host a panel – "ESG: from policies and regulatory approach to authentic narrative. How to use communications to engage communities." – which discussed the global ESG communication challenges facing the communications industry by leveraging on data and insights from the latest edition of the Global ESG Monitor.
The panel featured Fiorenzo Tagliabue, Marco Margheri (Head of US Relations of Eni, Chairman of Eni New Energies US Inc.), Andy Pharoah (Vice President of Corporate Affairs & Sustainability, Mars), Carmen San Segundo Gamez (Global Marketing and Communications Director for CSR and ESG, IBM) and was moderated by Jade Floyd (Senior Vice President of Communications & Public Affairs of our US partner Global Strategy Group).
To find out more, read the full analysis of the panel by Paul Holmes on PRovoke Media.