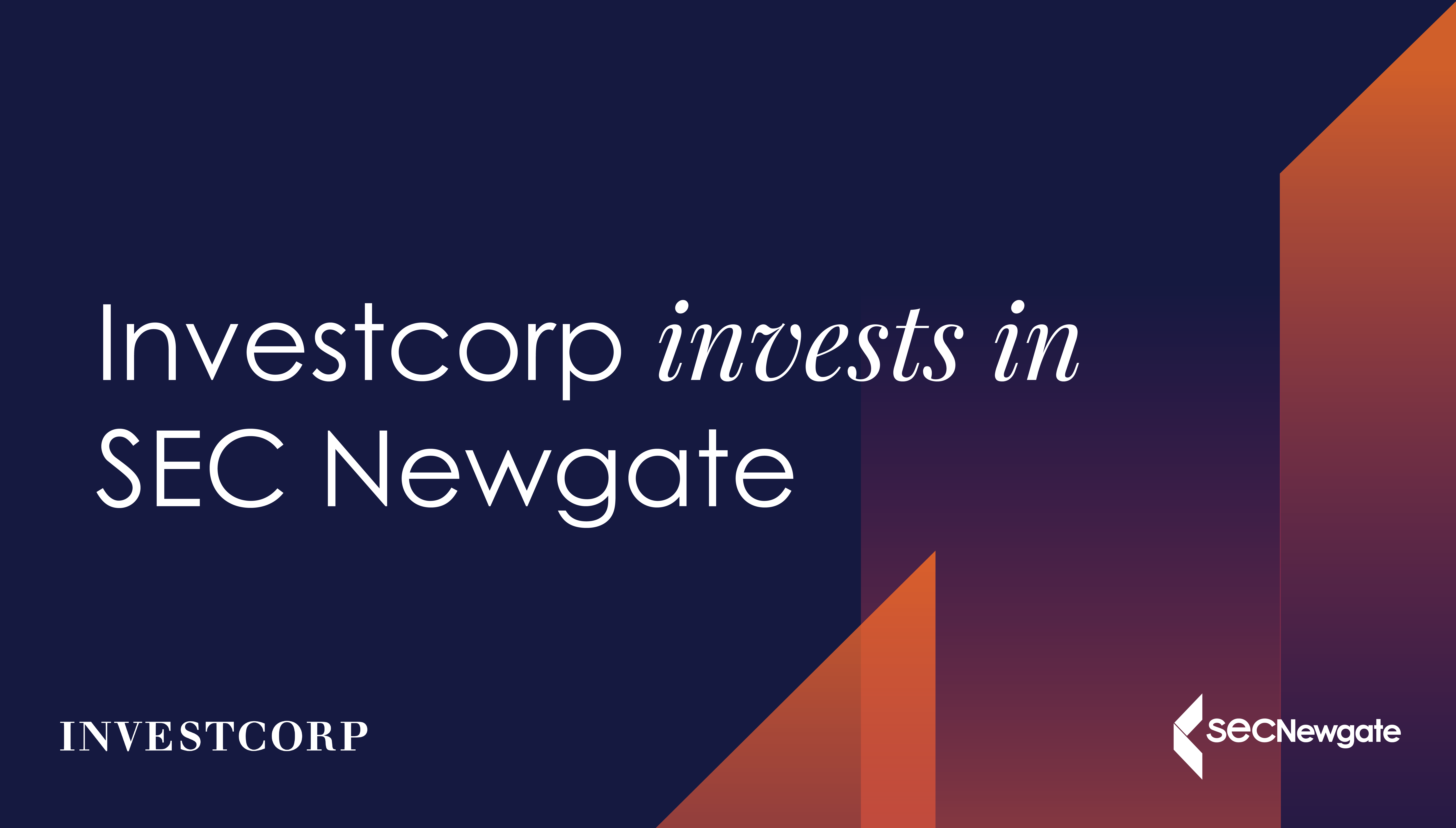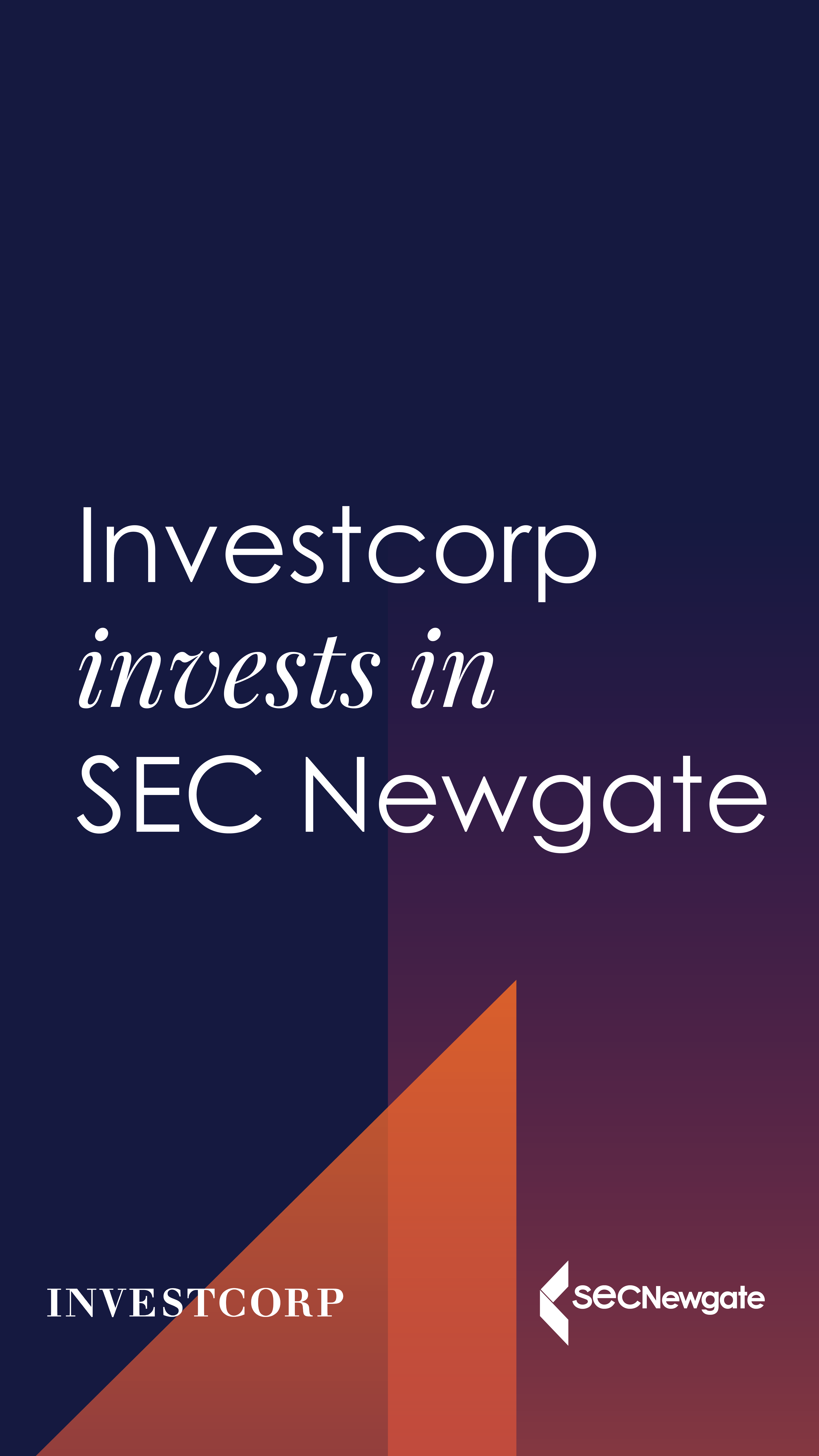 London, UK, 3 July 2023 – Investcorp, a leading global alternative investment firm, today announced it has signed a definitive agreement to invest c.$100 million for a majority stake in SEC Newgate ("the Company"), a global strategic communications and advocacy group. The transaction values SEC Newgate in excess of $250 million. Three Hills Capital Partners and SEC Newgate's other shareholders will roll over c.100% of their equity investment as part of the transaction. The transaction remains subject to customary regulatory and other closing conditions.
Investcorp's investment will help SEC Newgate accelerate its development strategy, with a focus on expansion in EMEA and the APAC region through both organic growth and M&A. Since its delisting from the London Stock Exchange in March 2022 and the addition of Three Hills Capital Partners as minority shareholders, SEC Newgate has grown rapidly and expanded in the U.S. and Central and South America through transformational acquisitions. As part of this transaction, Nicola Ferraris will join the Board of SEC Newgate.
Jose Pfeifer, Head of Investcorp's European Private Equity group, stated: "SEC Newgate aligns with our investment approach to back strong, committed management teams operating differentiated businesses in growing sectors. We will use our resources to support SEC Newgate's geographic expansion, growth through acquisitions and greenfield developments. We are excited to back SEC Newgate in the next phase of its growth journey and look forward to working with SEC Newgate CEO Fiorenzo Tagliabue and his team to bring to fruition many of the exciting opportunities that lie ahead."
Fiorenzo Tagliabue, who will remain CEO of SEC Newgate, stated: "We are thrilled to partner with Investcorp on this next chapter of growth given their significant expertise and track record of helping professional services businesses grow and expand internationally. Investcorp's investment will accelerate our transformation and fuel our development strategy to achieve global leadership in corporate communications and public affairs. I would like to thank Three Hills Capital Partners for their support since our delisting and ongoing commitment to our business".
Marco Anatriello and Michele Prencipe, Partners at Three Hills Capital Partners stated: "We are grateful to SEC Newgate CEO Fiorenzo Tagliabue and his team for what they have achieved over the last 18 months. We are thrilled to remain invested alongside Investcorp and continue the journey."
Investcorp has a long history of investing in and supporting people-based professional services and communications businesses, with notable investments including management consultants AlixPartners, strategic communications advisor ICR, workforce management pioneer PRO Unlimited (now Magnit), technology consulting firm Resultant, talent and entertainment company United Talent Agency, and business advisory firm CrossCountry.
Since 2012, Investcorp has invested more than €1.8 billion in companies across Europe. The investment in SEC Newgate follows successful previous investments in other Italian headquartered companies, such as Gucci, Riva and Dainese. Investcorp's current portfolio of Italy-based companies includes CloudCare, Vivaticket, Corneliani and HWG / Sababa Security.
The transaction is expected to close between the third and fourth quarter of 2023. Gattai, Minoli, Partners acted as legal advisor and Clearwater International as financial advisor to Investcorp, while Advant NCTM acted as legal advisor to SEC Newgate.